If you're looking for a high-performance, beautiful window treatment for your patio doors or oversized windows, why not consider vertical blinds? Large windows and sliding glass doors are a beautiful feature of any home or business, but when these windows and doors require coverings for privacy or light control, they can present a challenge. At Blind Designs, I have the vertical blinds you need for a flexible, attractive window shade solution perfect for supersized windows and doors. Offering versatility for privacy and light control, vertical window blinds also move completely out of the way–a big plus for deck or patio door access.  Blind Designs has a great selection of options, and I'm the professional you can rely on to help you find the one that's best for your home or commercial property! Blind Designs is your answer for great customer service and quality vertical blind options in southwestern Chicago.
Traditional Vertical Blinds 
At Blind Designs, I have classic vertical blinds with updated looks ideal for bringing light-control and privacy to any room of your house. Comprised of a series of hanging slats, traditional vertical blinds are a no-nonsense solution for covering and screening your large windows and patio doors. Often constructed from PVC or vinyl, traditional vertical blinds are also available in wood styles as well as vinyl-backed fabric. With a broad range of pattern, color, and style options on t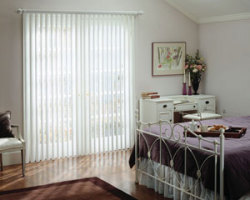 he market today, vertical window blinds from Blind Designs are a low-maintenance, attractive window covering for any home.
Cellular Vertical Blinds
Whiles traditional vertical blinds are made up of thin slats, cellular vertical blinds feature a special elliptical vane design. These unique vanes contain an air pocket, and when completely closed, the vanes overlap to create a barrier of insulation between your home and the temperature outside! In fact, cellular vertical window blinds can be up to 20% more energy efficient than other types of window treatments. An innovative window covering solution that combines energy efficiency with the practical function and performance of classic vertical blinds, cellular vertical blinds bring you light management, privacy, and lower energy costs! Offering great energy efficiency for both the cold winter months and the warm summer months, cellular vertical blinds are a high-tech window blind option that brings you superior performance for your home. At Blind Designs, I have cellular verticals in both light-filtering and room-darkening styles as well as a variety of colors to bring you great function, style, and beauty. If you're ready to upgrade to vertical blinds that will help keep your energy bills down, cellular verticals are the answer you've been looking for!
Sliding Panel Vertical Blinds
Bringing you clean lines and modern style as well as light-management and privacy, sliding panel vertical blinds from Blind Designs are the perfect solution for homeowners looking for a more contemporary style. A modern alternative to classic vertical blinds, sliding panel verticals offer you the versatility of traditional vertical blinds with a more updated, contemporary look. In place of hanging slats, this style of vertical blinds features several track-mounted panels. Sliding back and forth to provide you with full or partial coverage, these panels are ideal for casual and formal decor alike. Sliding panel vertical blinds offer fantastic style and performance for your home–so call Blind Designs today to learn more.
Fabric Vertical Blinds 
Combining the soft, supple look of window drapery with the easy operation and functionality of vertical blinds, fabric vertical blinds bring your windows the best of both worlds. Blind Designs offers a vast selection of fabric vertical blind options for homeowners who want the versatility of vertical blinds with a more formal, refined look. Available in a plethora of fabrics, colors, and textures, my fabric vertical blinds can range from light-filtering sheer shades to room-darkening blackouts. A great choice for stylish looks and practical light management and privacy control, fabric vertical blinds are an attractive, sensible solution for covering just about any large window or patio door!