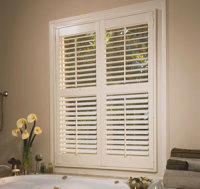 When you're in the market for new window treatments, be sure to consider plantation shutters! If you're looking for horizontal blinds for your home, if you want a timeless, elegant look, or if you're interested in turning your window treatments into an investment for your home, interior window shutters can be a great option. One of the highest performance window treatments on the market today, plantation shutters are often overlooked by homeowners shopping for window coverings… Don't make the same mistake! These interior window shutters bring you the same privacy and light management features as horizontal blinds, but they also offer so much more. On top of great functionality as window coverings, interior window shutters add additional aesthetic and performance benefits. Blind Designs offers the best in plantation shutters for both homes and businesses, so call today to learn more about how window shutters can make a difference in your home and decor.
Plantation shutters are:
Energy efficient: Combining a frame-filling design and unique construction, plantation shutters can actually help increase your home's energy efficiency. Helping keep your home cooler in summer and warmer in winter, your window shutters will provide year-round energy-efficient performance and look great all at the same time!
A great investment: Interior window shutters are as popular with home buyers as they are with homeowners. That means you can enjoy your window shutters today and get great return on investment when you sell your home years down the road. In fact, plantation shutters add more value to a home than any other window treatment option.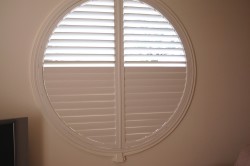 Classically beautiful: Providing clean lines and simple elegance, plantation shutters offer timeless beauty perfect for formal and casual decor alike.
For additional information on the benefits of installing interior shutters in your home or office, call or e-mail Blind Designs today. I'm the experienced window treatment professional you can count on to answer all of your questions! Schedule your free in-home design consultation today.
Blind Designs offers several styles of plantation shutters, so I'm sure to have one that's right for your home. Available in white as well as wood tones and with several different slat widths, your interior shutters are fully customizable to coordinate with your home.
Real Wood Plantation Shutters
Custom built to precisely fit your windows, wood interior window shutters are like fine furniture for your windows! Bring a sense of permanence, sophistication, and the natural beauty of real wood into your home with wood window shutters. Made from North American hardwoods, your wood plantation shutters from Blind Designs offer unmatched style and splendor as well as the refined look only real wood can provide. Perfect for contemporary interior design as well as formal decor, wood window shutters offer superior insulation, performance, and great looks for most any room of your home.
Composite Wood Plantation Shutters

Blind Designs offers a great selection of custom-built faux wood plantation shutters to ensure you can get the window covering look that's right for your style and your home at a price that's right for you. Constructed from a sturdy, durable mixture of real wood and a resilient polymer coating, composite wood interior shutters create the look and feel of solid wood without the high expense. And because of their special construction, composite window shutters are better able to stand up to years of use and abuse–in fact, they are warp-, crack-, and humidity-resistant, making them ideal for high-moisture rooms like kitchens and bathrooms!
Specialty Shape Plantation Shutters 
A perfect solution for creating a coordinated look for all of your windows, specialty shape window shutters bring you consistent appearance, great performance, and beautiful style. In addition to standard rectangular shapes, interior window shutters from Blind Designs are available in a variety of specialty shapes. Designed to fit your home's beautiful accent windows, shaped plantation shutters offer light control and privacy benefits for these hard-to-cover windows. From arched to eyebrow and hexagonal windows, Blind Designs has all the quality plantation shutters you need at a great price.